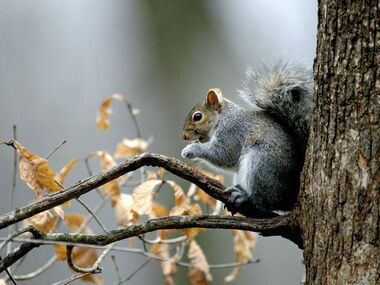 Squirrel Sauce Piquante is the perfect recipe for when your teenage brother, son, cousin, father brings home a mangey-looking squirrel they killed in the yard.
IngredientsEdit
2 squirrels, cut up
2 large onions, chopped
1/2 cup bell pepper, chopped
1/2 cup oil
1 Tbs. flour
1 small can tomato sauce
1 small can Rotel tomatoes
water
salt and pepper
Directions
Season squirrel with salt and pepper.
Using a Dutch oven, add oil and squirrel.
Brown pieces of meat well on both sides.
Remove meat.
Lower heat to medium and sauté onions, bell pepper and flour in same pan until brown.
Return squirrel to pan and add tomato sauce, Rotel tomatoes and enough water to cover meat.
Cover pot with a tight fitting lid and simmer for at least 1 hour, or until meat is tender.
Add onion tops and parsley just before serving.
Serve over rice.
Ad blocker interference detected!
Wikia is a free-to-use site that makes money from advertising. We have a modified experience for viewers using ad blockers

Wikia is not accessible if you've made further modifications. Remove the custom ad blocker rule(s) and the page will load as expected.