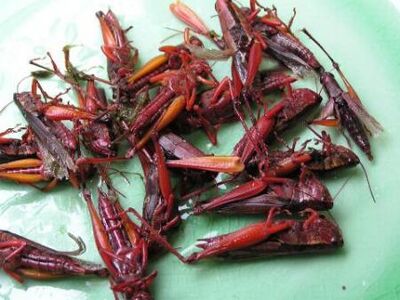 People in several countries collect locusts using large nets and by other means. Locusts are usually stir-fried, roasted or boiled and eaten immediately or dried and eaten later (see some recipes below). Locusts are rich in protein. During periods of increased locust activity, piles of dead locusts can be found in the market places of many locust affected countries.
Locusts are generally eaten dry-fried, stir-fried, fried with soy sauce. mirin and sake, or as tempura after having boiled them!
Ad blocker interference detected!
Wikia is a free-to-use site that makes money from advertising. We have a modified experience for viewers using ad blockers

Wikia is not accessible if you've made further modifications. Remove the custom ad blocker rule(s) and the page will load as expected.