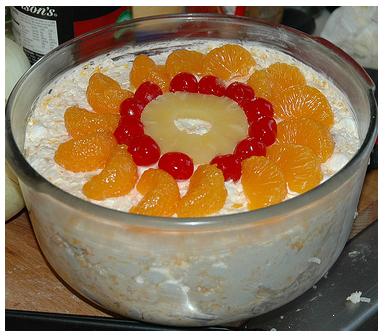 Ambrosia Salad is a sweet mixture of gelatinous materials. From canned "fruit" to whipped cream, it has all the food groups covered - mandarin oranges, fruit cocktail, coconut, and marshmallows coated in whipped cream. This is a favorite salad at family gatherings in redneck parts of the world. And everyone knows, salads are healthy. Keep holding on to yesterday with a dish that will be the biggest part of any celebration.
Ingredients
Edit
2 (11 oz) cans mandarin orange segments, drained
2 (15 oz) cans fruit cocktail, drained
2 cups flaked coconut
2 cups miniature marshmallows
1 (8 oz) container Whipped Cream or cool whip
1 16oz container sour cream
1 jar maraschino cherries, drained
Directions
Edit
Mix the mandarin oranges, fruit cocktail, and coconut in a large bowl.
Add whipped cream and marshmallows.
Chill for at least an hour.
Stir again before serving.
Ad blocker interference detected!
Wikia is a free-to-use site that makes money from advertising. We have a modified experience for viewers using ad blockers

Wikia is not accessible if you've made further modifications. Remove the custom ad blocker rule(s) and the page will load as expected.